2022 2nd International Conference on Ocean Engineering and Application Technology(ICOEAT 2022) will be held in Wuhan from October 21 to 23, 2022. The conference mainly focused on the topics of marine engineering, marine vehicles and floating structures, underwater acoustics and related application technologies. The conference aims to provide a platform for scholars, scientific researchers and technicians engaged in marine industry and related applied technology to share scientific research achievements and cutting-edge technologies, understand academic development trends, broaden research ideas, strengthen academic research and discussion, and promote the industrialization cooperation of academic achievements. Experts, scholars, business people and other relevant personnel from universities, scientific research institutions at home and abroad are sincerely invited to attend the conference.

Host
Key Laboratory of Intelligent Perception and Application of Marine Information in the Southeast Coast

Patron
AEIC Academic Exchange Information Center
Supporters
Xiamen University
Key Laboratory of Underwater Acoustic Communication and Marine Information Technology Ministry of Education, Xiamen University
Zhangzhou Institute of Surveying and Mapping
Zhejiang Bit Innovation Technology Co., Ltd

ICOEAT 2022 has been posted on Instiute of Scientific Research and Development, Chongqing University's website.
http://kjc.cqu.edu.cn/info/1123/10947.htm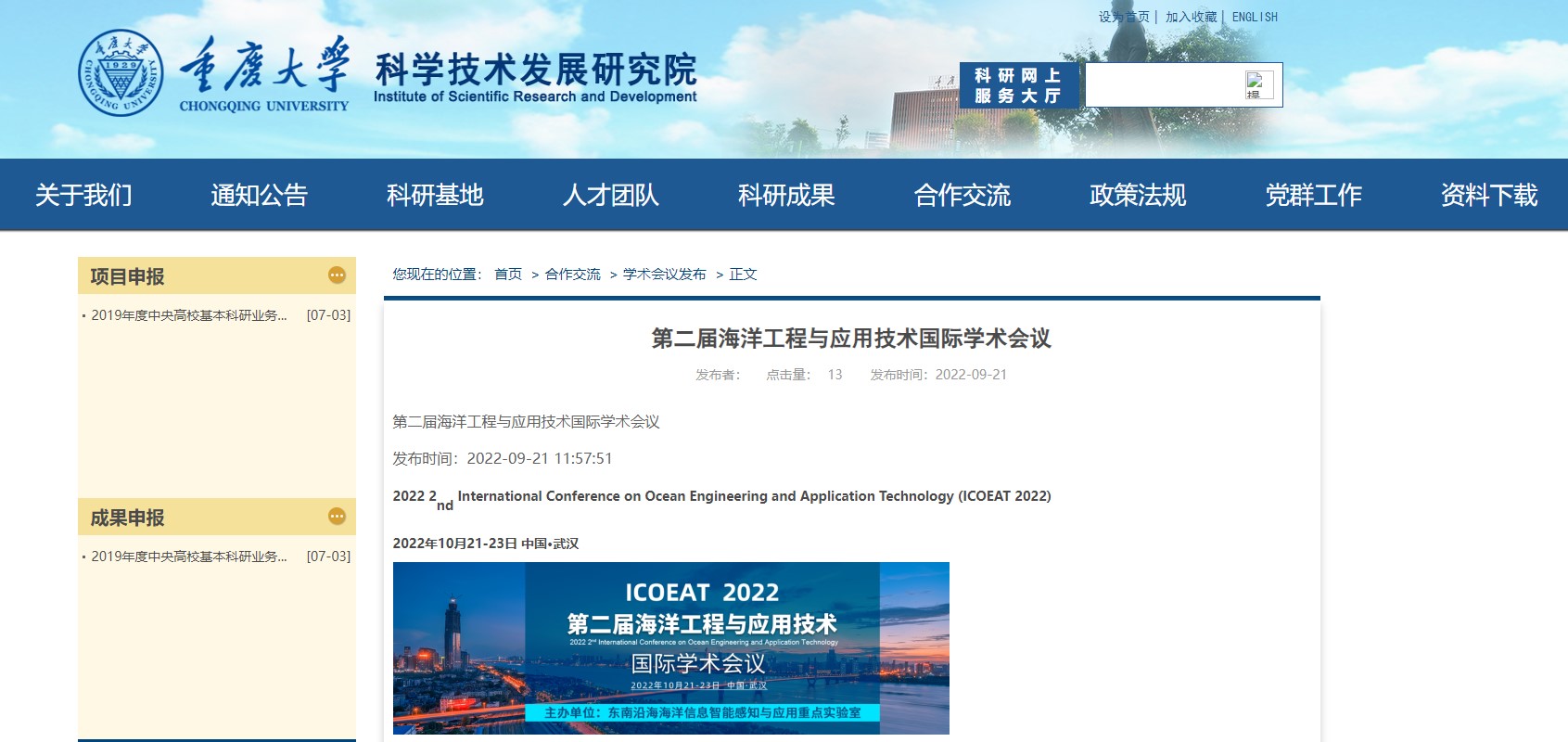 Full Paper Submission Date:October 16, 2022

Registration Deadline: October 16, 2022

Final Paper Submission Date: October 20, 2022

Conference Dates: October 21-23, 2022
1.Conference Proceedings
All papers will be reviewed by two or three expert reviewers from the conference committees. After a careful reviewing process, all accepted papers will be published in the Conference Proceedings and will be submitted to EI Compendex and Scopus for indexing.
1. The submitted papers must not be previously published or under consideration of publication elsewhere.
2. Paper submitted to the conference should be in English. You can contact us if you need translation services.
3. Paper should not less than 4 pages.

4. Please submit your full paper (Word+pdf) to English SUBMISSION SYSTEM or Chinese SUBMISSION SYSTEM
2.Journal (SCI Indexing)
1. Journal of Marine Science and Engineering (ISSN:2077-1312,IF=2.458,CAS 3)
2. Journal of Sensors(ISSN:1687-725X,IF:2.137,CAS Q4)
3. Journal of Mathematics(ISSN:2314-4629,IF=1.555,CAS Q4)
More details: SCI Journals Pages
Contribute the paper: AIScholar Submission System(SCI)